Residential Houses & Homes for Sale in Mississippi
Please choose an area from the map below: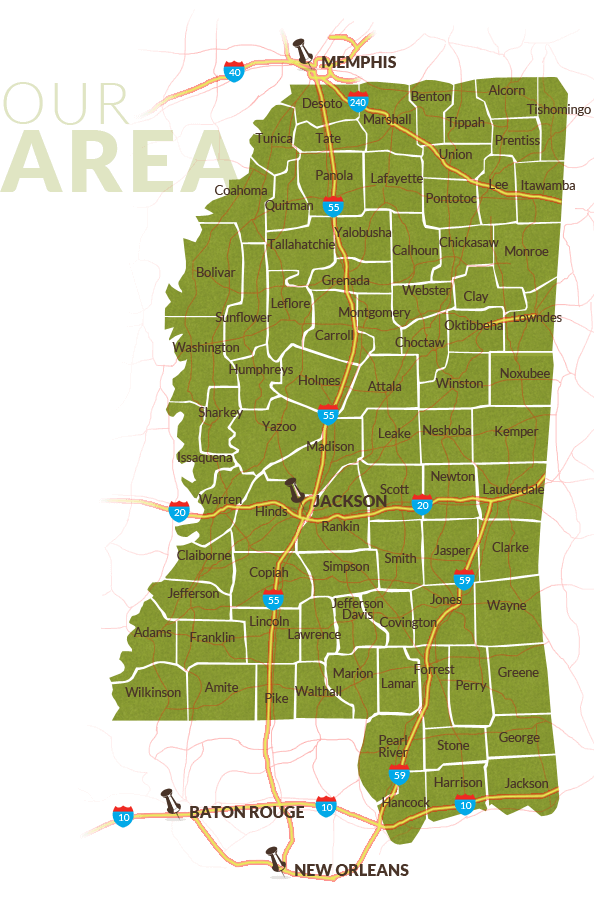 Contact the 4 Corner Properties team when you are ready to partner up with the best team of real estate professionals in the business!  We will help sell or find your ideal Mississippi home. Our agents are some of the most knowledgeable, dedicated real estate professionals in the field, and we will not rest until we have achieved your real estate goal. Whether you are looking to list or purchase a residence, our team is here for you.
Homes, Houses, and More Available for Sale
The residential real estate market is one that many companies and agents operate within, but only a handful really know the ins and outs of the business. Our experienced team of professionals know how to identify the best houses and residential properties on the market to suit your needs, and provide an in-depth evaluation of the value and potential risks of each. You can rest assured that you will be up-to-date and informed every step of the way, so that when you close on the deal of your choosing, you can feel confident and claim success. In fact, we will not claim success until you have met and exceeded your residential real estate goals.
If you are interested in listing your house for sale, then our talented team of residential real estate professionals will ensure that your home is put before not only the largest amount of potential buyers, but the right buyers. We work hard to make sure that seriously interested and qualified buyers understand the full value of your home, and are ready to provide you with the valuation you deserve. This is where we pride ourselves in our expertise and experience successfully managing negotiations and residential home closings that earn us our trusted, respected reputation from clients.
We Find Dream Homes and Dream Buyers in Mississippi
Whether you are interested in listing your home on the market, or finding and acquiring your perfect dream home swiftly and successfully, then we are the real estate team for you. The 4 Corner Properties team of Mississippi land professionals has long been trusted by families from the state to find the right home or buyer for all kinds of residential real estate deals. We look forward to helping you turn your dream of the perfect house for your loved ones into a reality—quicker than you think. Contact us today.