Farms for sale in Mississippi
Please choose an area from the map below: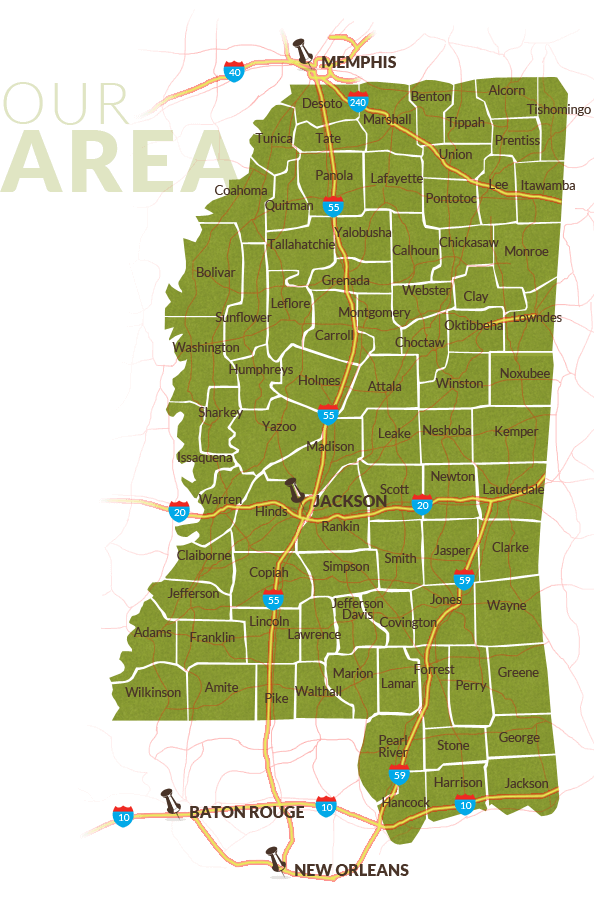 Farms for Sale in Mississippi
Are you looking to buy or list your farmland and get it going on the market? Then your search is over!  If you're looking to move out of the farming industry and sell Mississippi farmland, we have a long list of buyers ready to purchase your farm. If you're looking to buy, here at 4 Corner Properties, we are here to help find the perfect MS farmland for you! The diverse types of property for sale in Mississippi, including land for farming may offer you a plethora of choices. At your fingertips, with 4 Corner Properties, you'll be able to access the wide variety of farms available in Mississippi. Through our experienced and connected team of farmland experts, you will find the farm to meet your needs, from agricultural farmland in Mississippi, to poultry farms in MS, or Mississippi commercial farmland, fish hatcheries, cattle land, or any other type of farm you desire. Mississippi farmland values are soaring and you can be a part of it all by purchasing farms for sale in MS.
Mississippi Farms & Poultry Real Estate
Mississippi truly is the place to purchase farmland. In the state of MS, agriculture rakes in around $7 billion in income, which is roughly 20% of the state's total. Additionally, employment and income related to Mississippi farming bring in around $16 billion (or around 20% of the state's total). In the state of Mississippi, there are over 37,000 farms and those farms create about 11 million acres of farmed land. You can be a part of this booming industry by buying land for sale in Mississippi. In addition to finding the perfect farm through 4 Corner Properties, you can also search for homes for sale in Mississippi with acreage. This may meet your needs if you're looking for a dream home with a small farmland. Join the crucial farming team in Mississippi, where farming is a priority for so many important reasons. Beyond earning revenue for self and community, farmers in Mississippi are passionate about growing safe and affordable foods for families while caring for the environment through safe farming practices which encourage soil conservation in Mississippi, wildlife management and wetlands preservation.
If you're trying to decide which type of farmland to purchase and what area of Mississippi agriculture or animal farms to dive into, consider that the top earning farms in Mississippi include poultry, forestry, soybeans, cotton, corn, cattle, catfish, sweet potatoes, hogs, hay, rice, peanuts, milk, and wheat. Here at 4 Corner Properties, we can guide you to the perfect agricultural or animal farm in Mississippi to meet your every need with our expert advice and wide range of available lands.
Call 4 Corner Properties today or peruse through our listings to see all available farms for sale in Mississippi. We promise you'll find the perfect one to make your every farming dream come true! If you're looking to sell farmland in Mississippi, our experienced team will utilize our wide network to find the perfect buyer for you in a timely manner. Whatever your buying or selling farmland needs are, leave the work to 4 Corner Properties for the perfect outcome!
View our exclusive Mississippi Farms For Sale
View our Mississippi Poultry Farms