Lots & Land for Sale in Mississippi
Please choose an area from the map below: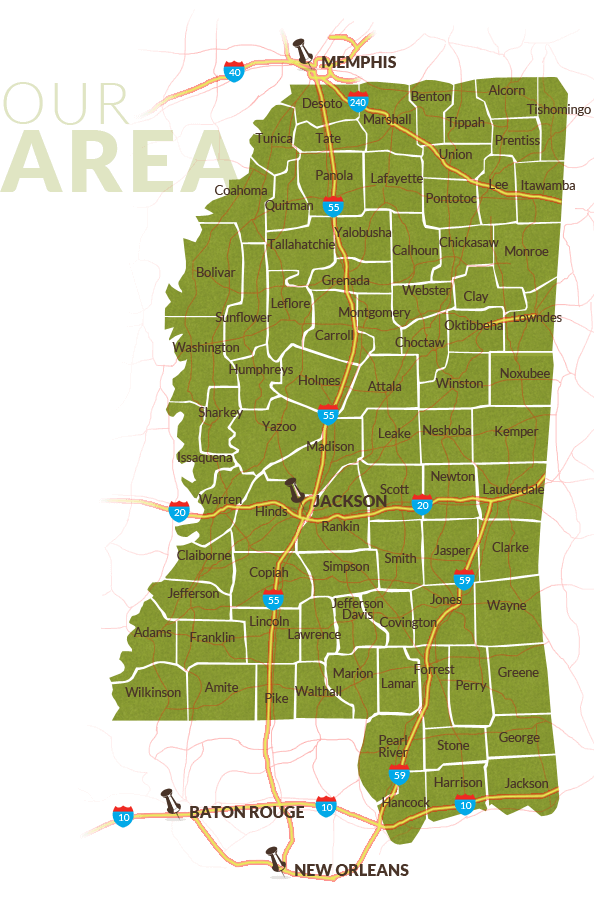 4 Corner Properties provides a wide variety of lots and land available for sale throughout Mississippi and surrounding region, and are ready and eager to provide you with a thorough assessment of every real estate opportunity that is available to you. Here at 4 Corner Properties, our foremost priority is providing swift, successful outcomes for our clients. Whether you are looking to identify and close on the perfect lot or land for your dream home, business setting, hunting or other residential or investment property, we look forward to guiding you through the full process, from initial search to final closing. Our team of talented Mississippi land professionals will not rest until your real estate goals have been achieved, whatever the scale of your budget or vision.
Find the Perfect Land or Buyer for Hunting or Investment
Our expertise in Mississippi lot and land searches, evaluations, negotiations and purchasing makes the 4 Corner Properties team the best in our field. We are known for our attention to detail, our thorough research and analysis of available opportunities, and our determination to reach the best outcomes possible for our clients' best interests. Every one of our agents will provide you with the facts you need to know, and will help you assess the situation to ensure that your final decision is one that you will feel good about not only today, but over the long term. The 4 Corner Properties team are experts at identifying value and sharing this knowledge and access to opportunities with our clients, so that you can rest assured that your search for the right land or lot or the right buyer for your property is the one you close on. In short, we will shoot you straight and make sure that you achieve your real estate objectives in the most efficient, secure manner possible.
Hunting, Timber, Mineral Investments and More
There are lots and land available for residential, commercial, investment and recreational purposes across Mississippi and beyond, and our 4 Corner Properties team of professionals would love to assist you in finding the right property or buyer for your real estate needs. We have small and expansive lots for sale that include timber, waterfront properties, farming acreage, mineral assets and more. Whatever your specific and unique real estate interests might be, chances are our team of skilled agents can assist you in aligning those interests with just the right property or buyer for you. Contact us today to find out how we can help you make your real estate goals a reality.