Commercial Property for Sale in Mississippi
Please choose an area from the map below: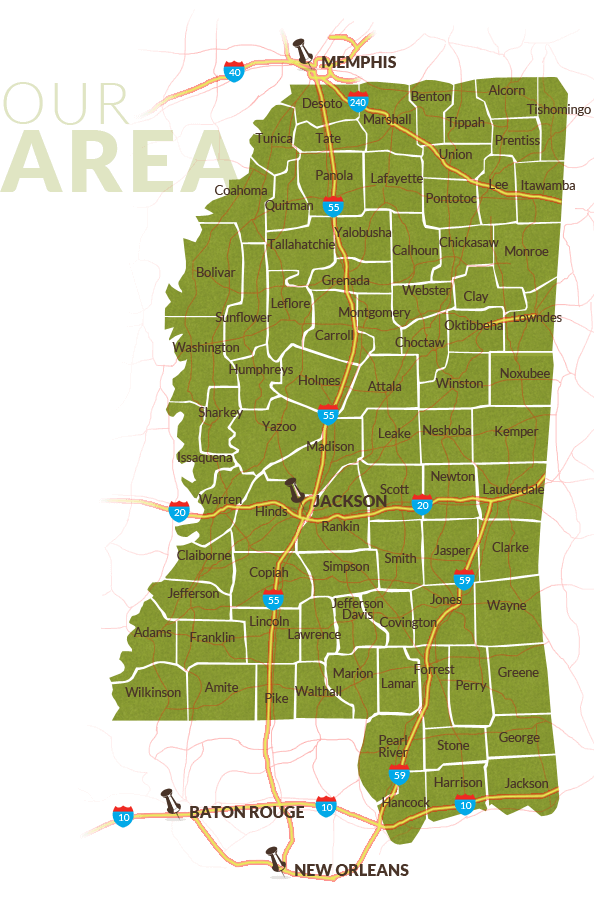 It takes a special, well-trained real estate professional to know how to manage the best commercial real estate transactions, and here at 4 Corner Properties every agent on our team fits that description. Whether you are looking for a small, mid-size or large scale commercial setting to house your commercial operations, we can help you find the perfect real estate for your business needs. In fact, we make it our foremost priority to not only meet, but exceed your expectations. As a thriving company ourselves, we understand the importance of the bottom line when it comes to business success, so we ensure that our commercial clients achieve their real estate goals within the budget you set, no matter your specific needs and requirements. In short, we make your needs our priority.
Retail, Agricultural, Industrial and More Commercial Properties For Sale
Our network of commercial real estate markets and contacts span Mississippi and beyond. If you are looking to list or purchase properties for retail, industrial or other commercial purposes, we have the ability to help you identify and negotiate the perfect real estate or buyer for your situation. We can work with you as an individual representative for your organization, or we have the capacity to manage the real estate search and transaction process with a larger group such as a board of directors. Whatever the needs of your commercial enterprise, the 4 Corner Properties team has the flexibility and capacity to fulfill those needs and bring your company to the best commercial real estate deal possible for you.
Work With an Experienced, Knowledgeable Team of Professionals
Your goal as a business owner or representative is to ensure that your budget, real estate needs, and long term success are all aligned in any real estate transaction that you undertake. Our talented, proactive team of Mississippi real estate professionals here at 4 Corner Properties will help you achieve this critical alignment of priorities in a manner that is swift, efficient and thorough. Your commercial real estate interests will be carefully considered and weighed against all available real estate listings or buyers, depending on your needs, and presented to you with our expert analysis of all available information. This in-depth evaluation and presentation of opportunities is critical to the long term success of commercial real estate sales and acquisitions. Contact us today to learn more.